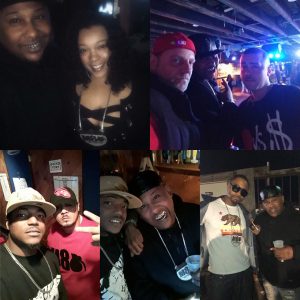 I can't recall the last rap concert I've gone to. There's such a huge difference in the crowd of Hip Hop and Regular labels of Rap. The event taking place at the California Brews Haus was a great fit for that in the basement kind of feel.
DJ M80 brought out more of the Hip Hop crowd. Everyone looked nice however… not over the top filled with name brands, LOL. Very comfortable feeling in however you choose to dress. The common interest in the building was music, and celebrating Justin's (DJ M80) first solo album release for his birthday.
The night was a whole of cake and frosting and desert toppings on top.
I was able to mingle with some of Rochester's and Buffalo's best music producers and engineers.
The rest was music, laughter, drinks, and chicken.
If there are any places you'd like me to give a review on or you would just like to comment, please feel free to do so at thekitchentabletalk@gmail.com or text them to 585-351-7952. I would love to share.
Check me out next week to see where else we can be. 🤗
Don't forget to tune in to The Kitchen Table Talk Monday's at 7pm
I'm your Weekly On the Go Girl 😘😘
Janella B