I hope everyone had a really great Thanksgiving holiday. For me, this year was pretty laid back. I
baked my pies and cheese cakes the night before and only had three of the main dishes to
do alone. I got plenty of rest and quiet time this mini stay home vacation.
Saturday, you would think everyone was tired of eating anything from the bird family.  However. who can deny watching a couple games over some Guinness stout wings and Long Islands? MicGinny's it is to make my Dad and kids happy!  lol.
It was kind of a last minute outing…just tired of eating leftovers.
Their Guinness wings are so good. The sauce is thick and really covered over
the wings. For the kids they have a mango habanero sauce as well as the usual sweet
and spicy.
If you ever ask me to take you out for your birthday, it is at MicGinny's. Show your valid driver's license, and they give you free wings for however old you are.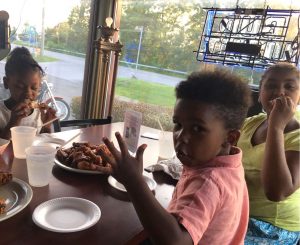 In June we got 58 wings with my Dad. Along with drinks and bill, it was about $28. Where else can you beat that? Great customer service and the waiters never make you wait.
Check me out next week to see where else we can be. Don't forget to tune in to The Kitchen Table Talk Monday's at 7 pm.
I'm your Weekly On the Go Girl, Janella B.