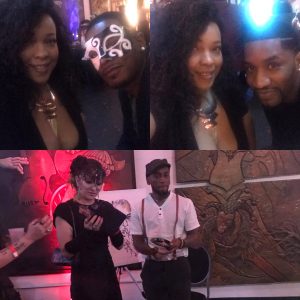 Walking through the door, my mouth dropped. I'm a lover of Arts. This place is like a museum of all sorts of abstract paintings….iron works……photography……
All the men and women are dressed with their beautiful ballroom Masquerade attire.
Events like these are the reasons you can't say there is nothing to do in Rochester. Ms Grace put together a great event for an even greater cause. All proceeds went for clothing to her country, or a sister country of hers in Africa.
Hosted by comedian Joel James, with performances by a host of Roc Award nominees such as Nate Taylor and Cuevas Walker ( I was on my toes with their performances), singers, poets, and artist in the corners of the room painting to the music.
To answer your question LMAO there was food. And yes cocktails, as sugar on top of the cookie.
If there are any places you'd like me to give a review on or just would like to comment please feel free to do so at thekitchentabletalk@gmail.com or text them to 585-351-7952.  I would love to share.
Check me out next week to see where else we can be.
Don't forget to tune in to The Kitchen Table Talk Monday's at 7pm.
I'm your Weekly On the Go Girl
Janella B