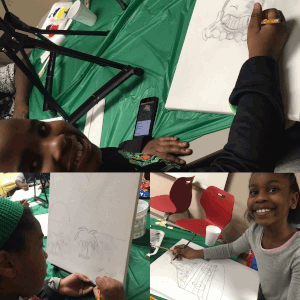 What better way to urge on warmer weather, than grabbing the kids to paint pretty pictures and
decorate cupcakes with Reshawna Turner?😊😃
My youngest two are normally a little over-active. (I'm being nice by the way LMAO).
Serious though, they were so focused and determined to take the images in their minds and put them on the canvas.
For $10, all the kids got paint, a canvas, food and snack, and when they were done they even decorated cupcakes.
You cannot get that anywhere. I can't wait to book her for a birthday party, which she does
both for children and adults.
Everyone had a great time. While the paint dried the kids were able to either dance or  continue decorating cupcakes.
With Easter just coming around the corner I can't wait to see what Ms Turner's decorated eggs look like.
Well, for this month and next months' events, here's a few I'm interested in :
Aries Ball march 31 at the Holiday Inn
April 6th Rochester Spring Wine Festival
April 6th Smokin Buta Monthly Hip Hop showcase
April 29th PJ Masks
April 28th The All White Day Party and book release By Yolanda SmileZ
If there are any places you'd like me to give a review on or you would just like to comment, please feel free to do so at thekitchentabletalk@gmail.com or text them to 585-351-7952. I would love to share.
Check me out next week to see where else we can be. 🤗
Don't forget to tune in to The Kitchen Table Talk Monday's at 7pm
I'm your Weekly On the Go Girl 😘😘
Janella B