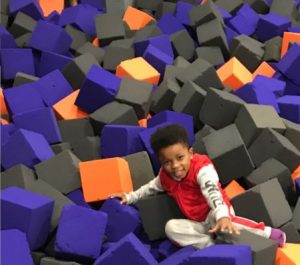 This month is all about. Since my kids are kind of glued to my hip for the most part, I chose to cover Altitude Trampoline Park.
Its looks like a gymnast play house. If you haven't taken your children yet I highly recommend it. There are different sections of the trampoline park, so if you have young children you can safely accompany them with the rest of the toddlers and parents or guardians sneaking some fun exercise in.
I know… I'm bad. I brought cupcakes and I had a mission like no other… to sweat and jump them off.  You would not have been able to tell me that I wasn't Gabby Douglas in there.
I even got the opportunity to play dodgeball with my son. Do you know he had the nerve to ask me to wait outside the net? Yes. He wanted to play with the big boys by himself. I thought he'd get hammered, but they were easy on him.
I discovered my youngest daughter can do flips in the air to dive into the sponge pit. Although it wasn't our first time going, it always happens to feel that way. With different groups of people and new kids for your kids to meet, it's always a new adventure.
My daughter is having a play date with a new friend next month. I hope her Mom likes wine!
I keep going on active trips like these in the hopes I'll be able to get back in that dress I love before my last baby.
Don't forget to tune in to The Kitchen Table Talk Monday's at 7 pm.