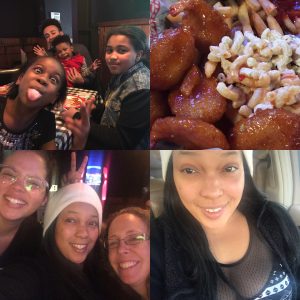 I will start off by saying I have been delighted that Salvatore's has changed to a full-service restaurant and SPORTS BAR.
I am Not an alcoholic. I realize I write more often than not about being happy that a place has a bar.  I just love a multipurpose environment where I can have family fun.
Salvatore's always has specials and coupons that you can look up and it's very kid-friendly while you watch whatever game you're into. The one that I have been going to is on Clinton and E. Ridge Rd. The owner makes you feel like you're actually in his house kitchen.
I must truly say and admit I have never been a beer drinker. I was asked to try an IP beer flight, and I have fallen for something new. The staff is extremely friendly. There is one bartender (make sure you tip her good) named Felicia who has become very much like family.
This is not just a pizza joint. They have a variety of things to order off the menu including pastas and salads of your choice. My favorite is the shrimp and fries basket. Can't pass that up.
If there are any places you'd like me to give a review on or just would like to comment on, please feel free to do so at thekitchentabletalk@gmail.com or text them to 585-351-7952. I would love to share.
Check me out next week to see where else we can be.
Don't forget to tune in to The Kitchen Table Talk Monday's at 7pm.
I'm your Weekly On the Go Girl
Janella B