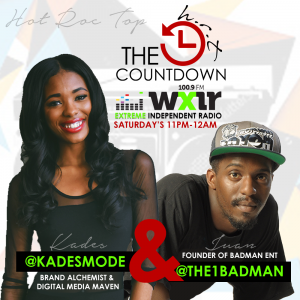 The "Hot Roc Top Countdown" or "HRT Countdown" is a unique and one of a kind radio and talking segment for one hour blending local and national music in a countdown for Rochester, New York's hottest news, entertainment and culture. Co-hosted by THE 1 (Founder/CEO of Badman Ent) & Kade (Brand Alchemist & Digital Media Maven) featuring exclusive interviews of national artist, pioneers and brands and emerging entrepreneurs in Rochester's focus to share tips, experiences and inspiration on what's occurring in the world today. You can submit your songs or request an interview at hrtcountdown@gmail.com. To vote for your favorite song in the countdown send your vote to hrtcountdown@gmail.com or tag #HRTCOUNTDOWN on social media.
THE 1
THE 1, owner of BADMAN Ent, has always been able to fascinate, enchant & control the crowd, no matter the size. From small family reunions to hosting talent shows at his alma mater East High School, to sold out arenas across the United States. THE 1 is a multi-talented artist/comedian, who grew up in church with a musical family. He learned all these talents "by necessity." He wanted original beats, he taught himself how; he wanted to record at anytime, so he bought all his own equipment and taught himself to engineer; he wanted music videos, he taught himself to produce and edit videos. He also makes his own video game/cartoon series "The Elite" that he creates, produces, & voices most of the characters.
THE 1 is a season vet in "the game" he has affiliated himself with companies like Brick Squad, Warner Bros., Atlantic,  Lazy K Prod. and more. He has toured with artists like Waka Flocka Flame, Frenchie, Rick Ross, Fabolous & more. He has toured with comedians Rob Stapleton, KDubb, Michael Colyer, Joe Clair, and more. He took two years off of entertainment after he became a father for the first time.
Now he's back and better than ever than ever! He's created his own genres of music called "Rip Roc" & "Rip Roc Soul". Which he explains as "His version of Rochester Hip Hop" & "a mix of R&B, and Hip Hop". "Rip Roc Soul" is a form of R&B but the biggest difference is THE 1 sings songs the way he feels the song should be sung, as opposed to most classically trained singers who hear a key of the music and sing in that key. He calls this method "Rip Rocking" He's also currently working with OJ Da Juiceman, M-City J.R. & more.
Facebook:  Juan Carlos Alvarez
Instagram: @the1badman
Twitter: @the1badman
Kades Mode
Kade walks with the confidence of Pat Cleveland and creates with a marketing astuteness with the discipline of Mark Dean. An emerging pioneer herself, Kade has worked with a plethora of pioneers in entertainment, fashion, and businesses worldwide; Kade's gallant yet graceful body of work has amassed notable success noting her as one to watch within the space of fashion, marketing, and pop culture.
A world traveler, Kade visited Mexico, Europe, Milan, France, and Germany to further immerse herself in the fashion, entrepreneurial, and global marketing industries. Published in Vogue Italia, Elle, Harper Bazaar's, Cosmopolitan, & Tushmagazines out of others and working with notable brands such as NAACP Awards, People's Choice Awards, STYLE LA Fashion Week, NYFW Fashion Week, Bel Kazan, Phuong My, and Black Diesel Gold out of others has sharpened her polished and tailored branding eye.
Her business savvy is noted between book and street smarts graduating from the Fashion Institute of technology while overcoming humble beginnings catering to her client work through her own companies Kades Mode and KM Creative. Standing in her own light, she's carved out a place to call her own with numerous accolades to include receiving recognition awards from Andrew Cuomo, Governor of New York, Mayor Bronin of Hartford, Miss Black USA, & Buffalo State College out of others for her accomplishments. In closing, with great anticipation for paying it forward. She continues to practice brand alchemy with her current client roster and shape brands through wardrobe and brand styling. All the while advocating to young women professionally to follow their hearts and dreams through resilience.
Facebook:  facebook.com/kadesmode
Instagram: instagram.com/kadesmode
Twitter: twitter.com/kadesmode
Website kadesmode.com
Email hello@kadesmode.com