100.9 WXIR is Rochester, NY's urban, alternative radio station.
Thanks to all Grassroots Radio Conference Partners, Attendees, Presenters and Sponsors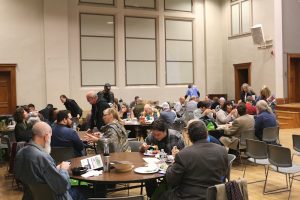 We want to thank our friends at WAYO 104.3 and PODER 97.1 for partnering on the Grassroots Radio Conference that took place in Rochester from October 4 through 6, 2019. We also want to thank Visual Studies Workshop and School of the Arts for hosting the event at their facilities.
We were delighted to meet or reconnect with close to 80 attendees, and we thank all of the terrific presenters. We also want to give a big shout out of thanks to our generous Sponsors, SCMS, Dielectric, Panther Graphics and Kaatskit.
Click here to view photos from the Grassroots Radio Conference. More photos will be coming soon.
---
Monthly Podcasting Meetups
Interested in getting into podcasting or growing your audience and network? Come to the monthly Podcasting Meetup at RCTV/WXIR to expand your horizons, make new contacts, learn new skills and make great connections. Run by award-winning podcaster Darien Lamen, this FREE monthly meetup brings in those working in the industry, and shares resources and best practices.
 Check out our next Podcasting Meetup!
October Podcasting Meetup: Equipment Petting Zoo
Wednesday, November 6 from 6:30 to 7:30 pm
Have questions about what the best microphones, field recorders, or mixers for podcasting are? Curious about what set-ups to use for recording phone calls, interviews, or sound effects?
Then come to our November meetup, where we'll have an equipment petting zoo for you to explore! Feel free to bring your own equipment for show and tell as well.
The Podcasting Meetup is a monthly forum for local audio producers to share skills and ideas. Whether your thing is music, talk, or audio storytelling; whether you're an experienced podcaster, or just curious, all are welcome. The meetup is hosted by WXIR and RCTV, and facilitated by WXIR producer and educator Darien Lamen. There's no charge to attend and no reservations necessary. Coffee, tea, and light snacks will be provided. Please join us!
---
Proud Pacifica Network Affiliate